TECH SPECS:
PERFORMANCE
B3370R
Key Style: Q / W / E / R / A / S / D / F 8 LK Libra Switch
8 LK Key Response:0.2ms
8 LK Key Lifetime: 100 Million Keystrokes
8 LK Report Rate: 1000 Hz / 1 ms
N-Key Rollover: 12 N-Key Rollover
Backlit: Customize RGB Animation
Brightness: Adjustable
Gaming Keycaps: 8 ABS Keycaps
Water-Resistant: Double Secured
Space-Bar: Screw Enhanced
Connector: USB
System Requirements: Windows XP/ Vista/ 7/ 8 /8.1 / 10 or later
FEATURES: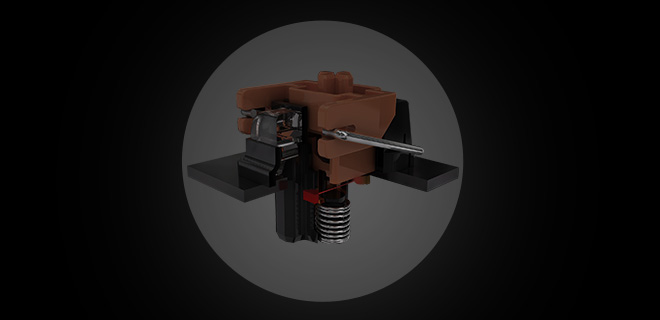 Light Strike (LK) Libra
Innovative Light Strike (LK) Libra technology leverages on a balance bar to control direct
up-down movements and prevents accidental keystrokes, allowing you to trigger with absolute speed and accuracy.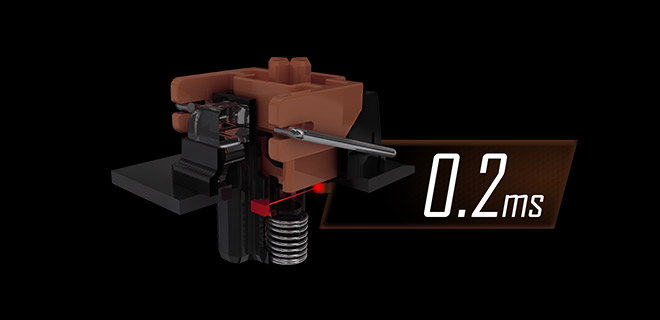 0.2ms Key Response
Light Strike (LK) Libra switch technology uses an optical detection to react with a lightning speed of 0.2ms response time and an actuation point of 1.5mm.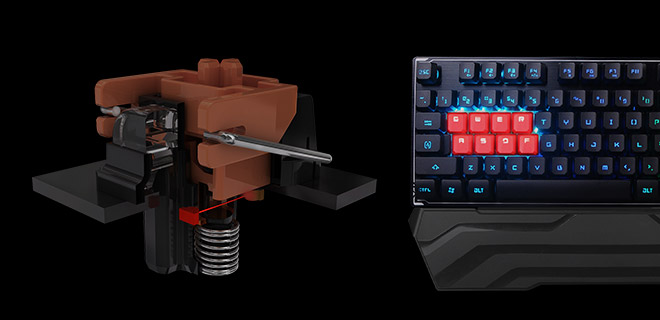 Ultra Durable, 100 Million Lifetime
LK Optical switch has a life span of over 100 million key strokes. (Traditional metal switch tends to oxidize and wear out easily)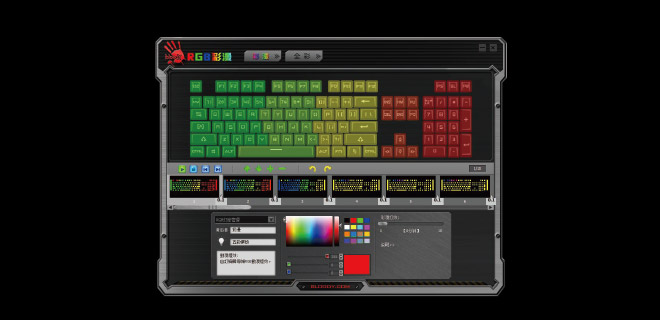 Self-Customize RGB Animation
Customize freely 2 types of RGB Animation modes with 16.8 million color options, making your own unique "Self-Customize" RGB.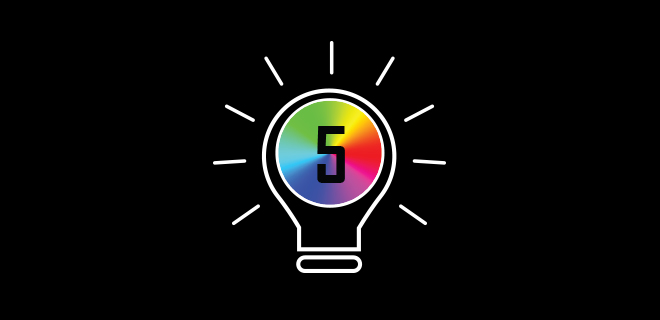 Preloaded 5 RGB Lighting Effects
5 Types of lighting effects are preloaded in the keyboard by default. Adjust the lighting effects by pressing the "FN" keys with "F12" keys to rotate without driver.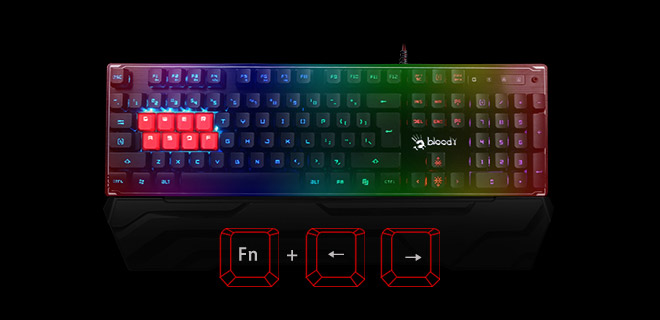 Easy Profile Management
Cycle through 7 different modes of profiles by pressing FN + ← / →. LED indicator for each profile allowing you to optimize your gaming experience. Adjustable Backlights
Press Fn + F12 to adjust the lighting effects.
Press Fn +"↑ / ↓" to adjust the light brightness.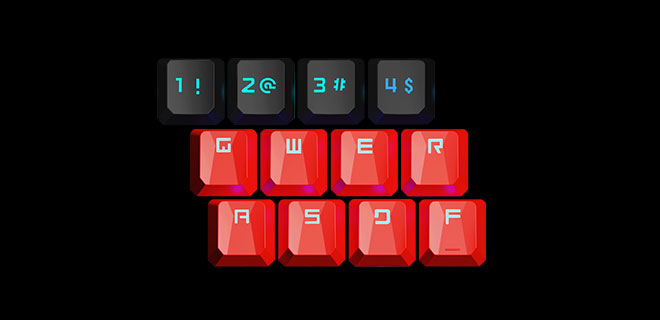 12 N-Key Rollover
100% anti-ghosting with 12 keys rollover ensures your simulateneous key commands always register ( 1 / 2 / 3 / 4 / Q / W / E / R / A / S / D /F ).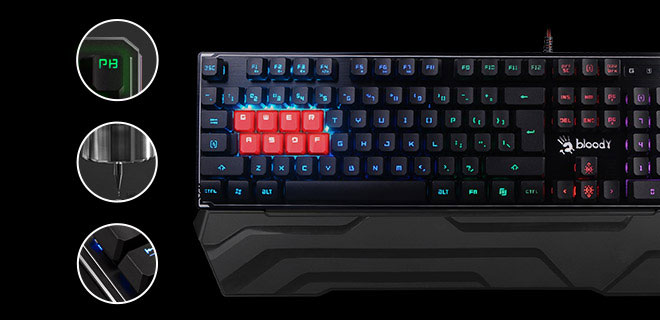 Metallic Body
Metallic aluminum alloy surface, durable and long lasting.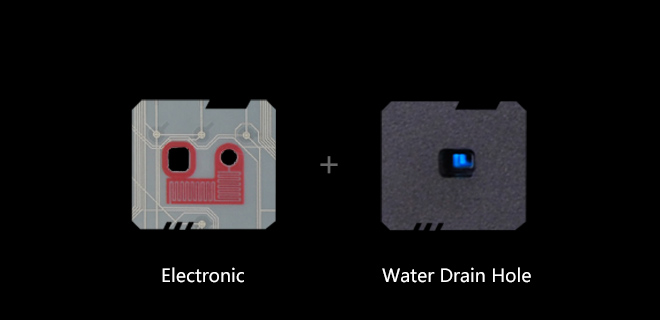 Double Secure Water-Resistant
Electronic sealed + water drain hole greatly prolongs the lifetime of keyboard.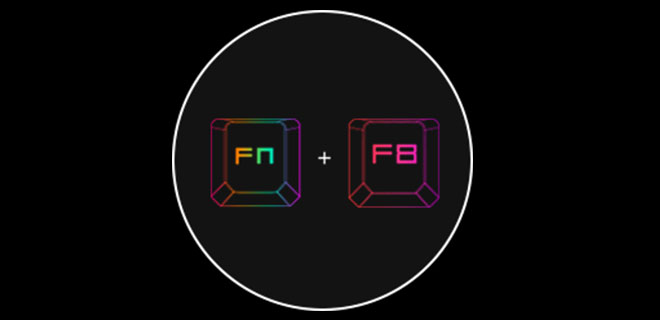 Game Mode
Press Fn+F8 will disable "Windows" key to avoid interruption during the game session.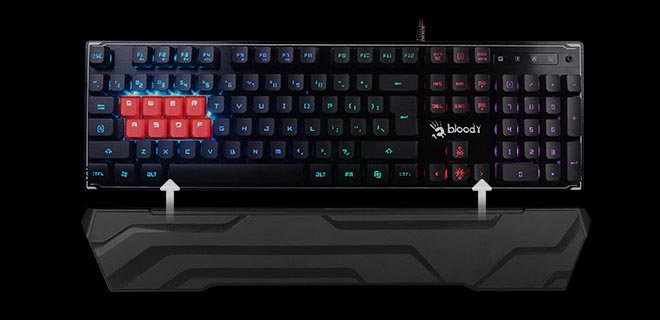 Detachable Wrist Rest
Allows your wrists to rest comfortably for hours of gaming enjoyment.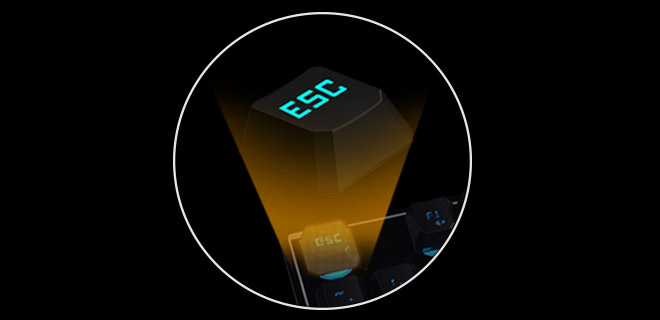 Durable, Dual-Coloured Keycaps
Keycaps are created using double-shot injection molding so letters will not fade off due to wear and tear.